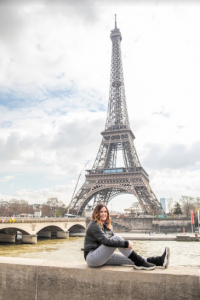 Jen has worked in a variety of settings and with numerous issues in the counseling field for over 12 years, but her heart and passion has always been serving women and the unique issues they face.
She believes that women are the healers of the world – and also most likely to put themselves last – so she has dedicated her practice to serving the kick-ass, ambitious and pretty overwhelmed women of Denver who are trying to do it all with a smile on their face :).
More importantly, her personal life experiences have made her uniquely qualified to guide women on an path to personal healing. Having grown up all around the world, including overseas in Germany, Jen understands transitions, anxiety, overwhelm and how culture and family influence us all in profound ways. Through the ups and downs of her life, she's learned the incredible importance of grounding ourselves deeply into self-care practices that help us to become our best selves.
Working with Jen is not like working with a traditional "talk" therapist! She believes deeply in setting a clear course with her clients, coaching them along the way and encouraging them to be active in between sessions, so that your investment in yourself can really take root as you reach your goals. She offers practical therapeutic techniques, such as EMDR, to help you get unstuck FOR REAL and find the progress you've been looking for.
Clients who come to Jen are often looking for help with:
– Anxiety issues
– Stress and overwhelm from trying to do it all
– Perfectionism
– Relationships patterns that don't stop repeating themselves
– Big life transitions
– Figuring out a spiritual path that makes sense to them
– Self-esteem and confidence struggles
– Finding a sense of identity in the midst of life changes
A passionate gymnast, meditator, Pilates practitioner, and dog-lover (her border collie Zahra is a frequent visitor to sessions) – Jen believes in bringing her whole heart and her wealth of expertise to every.single.session with you, meeting you right where you're at, but also challenging you with the right guidance and support to help you actually create the amazing life of which you've dreamed.
For those of you interested in what formal qualifications Jen has to do what she does:
– Licensed Professional Counselor (LPC), State of Colorado
– National Certified Counselor (NCC), National Board of Certified Counselors
– EMDR Level 2 Trained (EMDRIA)
– Over 12 years experience conducting individual and group therapy using evidence-based practices such as CBT (Cognitive Behavioral Therapy), DBT (Dialectial Behavior Therapy), TREM (Trauma Recovery and Empowerment for Women), and Existential Therapy
– Masters level studies in theology
– 4-D Wheel Training (Dr. Gina Ogden)
– Certified in Animal-Assisted Therapy (AAT)
Ready to see how Jen can help you finally get unstuck and get moving in the direction you want to go? Call (720) 388-7822, email jennifer@rootcounseling.com, or use the online scheduler: